In Just 24 Hours From Right Now You Could Have Your Very Own, PROVEN To Work, Affiliate Marketing System Ready To Make You Commission After Commission For Years To Come...
Here's your chance to get your hands on the easiest blueprint ever created for those who want to make money with affiliate marketing...
Dear Affiliate Marketer,

Imagine for a moment that I showed you a beautiful masterpiece painting, such as Leonardo da Vinci's Mono Lisa. And let's say I ask you to recreate this masterpiece.

You're probably going to give me a dumbfounded look, especially if you have no skills or background when it comes to painting. There's just no way the average person can pick up a paintbrush and recreate the Mona Lisa... right?

Now imagine that I gave you few tools and tips to help you along, like...
The exact some type of paint, brushes and other supplies Leonardo da Vinci used.

A canvas with "paint by number" markings so that you know exactly what color to put where.

A step-by-step manual that tells you everything you need to know about recreating this masterpiece painting.

An artist who specializes in recreating masterpieces looking over your shoulder and coaching you on what to do.
Now tell me...
would you do a better job with recreating the Mona Lisa versus struggling to do it by yourself?
You bet you would!
And you'd probably amaze yourself and others with the end result.
The reason I'm sharing this little story with you is because the same thing applies to any goal you'd like to accomplish.
You need a good plan, good tools, and a good coach to guide you to success.
If you don't have these things, you'll fail.
Period.
And you know what?
That's why so many smart people can't make a go of it with an online business.
Listen, if you want to build a successful business, then you need a good plan, good tools, and a good coach.
And that's exactly what I'm about to give you...
Introducing The "My Affiliate Marketing Blueprint" Complete Package!
Get your access now, and you'll get absolute everything you need to setup your very own affiliate business, including:
A step-by-step blueprint which takes you through the entire process of choosing a niche, setting up your website, and building a mailing list... No special skills or background required!

A full set of templates and tools to get your commission-check business up and running fast.

A special, professionally designed page that you can edit to use in building your list, and creating multiple streams of income!
Sounds good, right?
It is, because...
This is the absolute best way to get a successful affiliate business up and running fast...
No special skills or experience required!
You get all the plans, tools and coaching you need to hit the ground running!
EVERYTHING is included in the "My Affiliate Marketing Blueprint" package!
Now, if you're not familiar with an affiliate business model, let me quickly fill you in on why this is a great way to get started making money online...
Affiliate Marketing Explained...
Basically, it works like this:
you find products people will love, you use a special link to tell people about these products, and you get a commission every time someone buys from your link.
Here Are Five Reasons Why So Many People Love This Business Model (And Why You Will Too):
Reason #1: You don't have to create products. This not only saves you time and money, but you don't have to store, ship or otherwise handle products either.

Reason #2: You don't have to deal with delivery, refunds or customer queries. This means you don't need to set up payment systems, hire customer service representatives or deal with those sorts of hassles. What a relief!

Reason #3: It's quick and easy to set up. In a matter of a few hours or a few days you can launch your business and start collecting commission checks... nothing could be easier!

Reason #4: You can generate a full-time income. Some affiliate product vendors pay very generous commissions... 50%, 75% or even more. Plus some products have high ticket prices. Still others are in big demand. The end result? Commission checks that pile up quickly for you!

Reason #5: You don't need to directly "hard sell" anything. No cold calling, no direct sales, no face-to-face required. All you have to do is load content up into an email autoresponder, and put the whole hands-free system on autopilot. Whether you're busy or just shy, you'll love this business model!

So you can see why this is a great business model.

And...

Here's why this package is the

BEST

way to get your own affiliate marketing business up and running fast...
The "My Affiliate Marketing Blueprint" Package Includes Everything You Need To Set Up Your Business, Including A Step-By-Step Manual, AND A Set Of Templates And Other Tools...
Here's what's included in this package...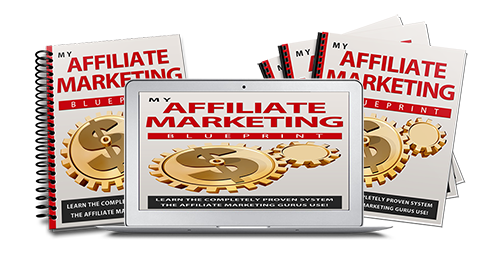 Component #1: The Main "My Affiliate Marketing Blueprint" Manual
What you'll get inside this step-by-step manual is the exact formula I've used to
S.E.T.U.P
. a thriving affiliate marketing business. Let's take a look at the
S.E.T.U.P. formula
and how you can use it to start your business...
Select a Market:
This is where you'll discover the secrets of choosing a hungry, profitable market who'll eagerly buy whatever you're selling!
Establish a Website:
No tech skills? No eye for web design?
No problem! In this step you'll learn the quick and easy way to establish a website... not only do you get a web template, you'll even find out the best tools for the job!
Target the Market:
Here you'll find out how to pick out the best and most profitable affiliate products to promote. Your prospects will love the products, and
you'll love your big pay-days!
Use Content to Sell:
At this step you'll find out how to use a five-day mini course to promote affiliate products. Here's the key: Your subscribers won't even feel like you're
"selling"
anything to them, which is exactly why
this strategy is so wildly profitable!
Prepare the Mailing List:
Here you'll learn everything you need to know about setting up your mailing list...
No technical experience or skills requires.
It truly is
"copy and paste"
easy!
Component #2: The My Affiliate Marketing Blueprint Site Template
This special template actually has
ten ways for you to profit from the one page.
Just edit some links and text, input your optin form, then upload it to your webpage.
Result = instant multiple streams of income potential!
Component #3: Printable Checklist
You'll get a complete checklist which outlines every major and minor step of this process. This is a great tool to print off and have at hand as you take action. No more forgetting steps or feeling overwhelmed...
Just follow the checklist, in before you know it you'll have your very own affiliate business up and running!
Component #4: Five-Day Mini-Course Template
As part of this course, you'll discover the secrets of using a five-day mini course delivered by email to promote products to your subscribers. And to make it easier than ever to get your own mini course online, you'll get a complete set of
five templates
you can use to create your emails. Just fill in the required information, upload into your autoresponder, and you're set to start making commissions!
Component #5: Five Solo Email Templates
You'll also get five solo email templates you can use to promote your affiliate products. No more spending time staring at a blank screen and struggling to write something persuasive.
Just fill in the blanks, add your affiliate links and you'll have five emails you can use to sell more affiliate products!
Component #6: Group Coaching Question and Answer Session
Here I've compiled six of the best questions from a group coaching session along with my answers. This downloadable and printable .pdf will show you clever tips and tricks for
boosting
your affiliate income in some very surprising ways!
All of this is what makes this a complete package and are more than enough to give you
exactly what you need to set up your business quickly.
So let me ask you something, because I know you're wondering what a package like this costs...
What Is The "My Affiliate Marketing Blueprint" Package Worth To You And Your Checking Account?
Let's quickly recap what you get when you order this package right NOW...
You get the "My Affiliate Marketing Blueprint" manual. This is 34 pages of "no fluff" step-by-step teaching! You can get through it all in about an hour and then spend the rest of your time getting your affiliate marketing business setup. ($47 Value)

You get the My Affiliate Marketing Blueprint Site Template. Edit a few things, upload it, and you have your very own website that can make you money in several ways as an affiliate marketer. ($47 Value)

You get the printable checklist that allows you to do EVERYTHING I show you at a glance. Print it out, and work your way through it while following along with me. ($17 Value)

You get the Five-Day Mini-Course Templates so you can easily use them to create your own and watch the sales roll in from your affiliate links. ($97 Value)

You get the fill-in-the-blanks solo mailing templates so you can quickly use them to advertise any affiliate link or your website. ($97 Value)

You get the Group Coaching Question and Answer Session. This has some seriously juicy tips in it. Questions from my students always bring out the best in me and allow me to teach EXACTLY what you're dying to know. ($17 Value)
That's a total value of $322!
And if you act now, you get the entire package for just
$47
$27
.
Your next step is simple:
Get the
"My Affiliate Marketing Blueprint"
Package!
Take out your credit card and click the
"Buy Now"
button... and in minutes you'll have access to everything seen here and be on your way to a super profitable affiliate marketing business...
Option #1: One Time
Payment Of Just $27

(Can be used for your
own personal use!) There are only 100 22 more spots for this special price!




Option #2: One Time
Payment Of Just $97

(Get Resale Rights! Only 100 9 license left! You'll get access to the product and a sales system to use in your marketing to sell this product as your own and keep all the profits from your sales! This is like having your own product to sell!)